on Mon 20 Aug 2018, 3:42 pm
Alex Morgan (USA player)
_________________
Can't Reply To This Post? Well Join Us It Only Takes A Minute. Click Here To Register For A Free Account.
on Mon 20 Aug 2018, 4:05 pm
Kaylyn Kyle (Canadian Footballer)
_________________
Can't Reply To This Post? Well Join Us It Only Takes A Minute. Click Here To Register For A Free Account.
on Tue 21 Aug 2018, 10:06 am
Both look handy and not footballers if I might say.
on Thu 23 Aug 2018, 4:41 pm
Julia Simic - currently at West Ham Ladies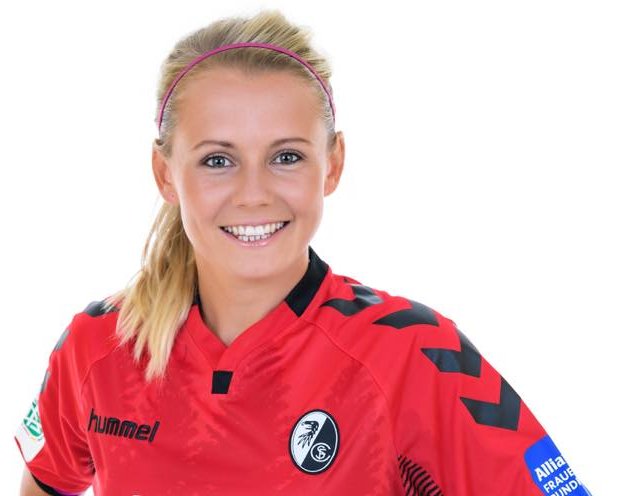 _________________
Can't Reply To This Post? Well Join Us It Only Takes A Minute. Click Here To Register For A Free Account.
on Fri 07 Dec 2018, 10:45 pm
Historic first women's Ballon d'Or winner asked to twerk in shocking moment

Martin Solveig wants us all to know why we shouldn't judge him for asking the world's best female footballer to twerk at the Ballon d'Or.
French DJ Martin Solveig has revealed why he asked a female football star to "twerk" after he received a savage backlash for doing so at a prestigious awards ceremony. What should have been a historic moment in football was ruined when Ada Hegerberg was asked to twerk on stage at the Ballon d'Or in Paris on Tuesday (AEDT). Norwegian Hegerberg, who plays for Olympique Lyonnais in France, won the inaugural award for the best female player in the world, beating out 14 other nominees including Australia's Sam Kerr.
Normally reserved for the men throughout its 62-year history, the 2018 Ballon d'Or finally recognised football's best women and Hegerberg was rewarded for her outstanding international and club form before the man next to her put a dampener on her big moment. Solveig, who was a guest host at the awards ceremony, asked the 23-year-old striker to twerk after she received her prize. Hegerberg promptly shut him down, saying "no" and turning her back on him. Social media turned on Solveig, forcing the music icon to clarify why he made the request to Hegerbeg in an Instagram post on Wednesday (AEDT), saying it was part of his instructions to prepare a song and dance with each award winner.
"I want to publicly apologise for any misunderstanding that came from yesterday's exchange between myself & Ada Hegerberg during the Ballon d'Or ceremony,"
Solveig wrote.
"I acknowledge that it was in poor taste and I am deeply sorry for my mistake. To add context to the incident, I was asked to prepare a song for each winner and would dance with each recipient after their award was presented. The clip circulating on social media does not reflect the whole situation. Moments after I made the remark, we went on to dance together to Frank Sinatra's Fly Me to the Moon. The twerking comment was used in contrast to the song I had prepared for her, however, this sentiment was misunderstood and has sadly caused offence."
Football journalist Jason Pettigrove tweeted:
"Martin Solveig, you are f***ing pathetic
" while tennis star Andy Murray let loose on his Instagram story.  
"Why do women have to put up with this s***?"
he wrote.
"What questions did they ask Mbappe and Modric? I'd imagine something to do with football. And to everyone who thinks people are overreacting and it was just a joke ... it wasn't. I've been involved in sport my whole life and the level of sexism is unreal."
Pettigrove and Murray were far from the only ones to use colourful language to describe Solveig as people from all around the world got inventive with their vocabulary when thinking of ways to shame him. Solveig posted a video on Twitter after seeing the backlash to his twerking request and apologised, saying he meant no disrespect. In a later tweet he said he apologised to Hederberg, who understood he was only trying to make a joke.
"I'm a little bit amazed as to what I'm reading on the internet,"
Solveig said.
"I of course didn't want to offend anyone. This comes from a distortion of my English level and my English culture level which is obviously not enough because obviously I didn't mean to offend anyone and I didn't know that this could be seen as such an offence, especially if you consider the sequence in total when we ended up dancing to Frank Sinatra. This was a joke, probably a bad one and I want to apologise for the ones I may have offended. Sorry about that."
https://www.news.com.au/sport/football/historic-first-womens-ballon-dor-winner-asked-to-twerk-in-shocking-moment/news-story/cc85bed09a18315f20dab73fdce70717
_________________
A friendly Reading FC fan! CELLO MAN - web www.johnstone-music.com 
on Fri 07 Dec 2018, 10:46 pm
so what do you make of that? Is it a storm in a tea cup? Or more serious?
_________________
A friendly Reading FC fan! CELLO MAN - web www.johnstone-music.com 

Permissions in this forum:
You
cannot
reply to topics in this forum